40+ Years Creating Fibreglass Mouldings For UK Businesses
welcome to
stuart:pease

advanced GRP engineering

rotating image

From their primary manufacturing facility in South Yorkshire, stuart:pease has been providing comprehensive and highly professional GRP design, pattern, mould making and fabrication to clients worldwide for over 40 years.

Employing 30 genuine craftsmen, and utilising hand-lay moulding techniques and stringent quality procedures backed up by ISO9001:2015, ensures that every manufactured product and on-site installation is inspected to the highest standards.
---
we have been offering a fibreglass moulding services to UK businesses for over 40 years
It's rare for a material to be as strong as fibreglass composite while still remaining as lightweight. For this reason, fibreglass composite is the material of choice for manufacturers needing high-performing products that can hold up in harsh conditions, such as bicycle frames or rotor blades (like those seen on wind turbines), while being light enough to avoid adding unnecessary bulk.
If it's high-performance composite mouldings you're looking for, you've come to the right place. Here at stuart:pease, our 14,000 sq. ft. dedicated workshop in Rotherham, South Yorkshire, has been providing comprehensive and highly professional fibreglass composite design, patterns, mould-making, and fabrication services to customers around the world for over 40 years.
---
Nobody knows how to manufacture fibreglass composite products quite like we do.
Whether you require your composite mouldings for construction purposes, are looking for industrial storage solutions, or you're representing the needs of the public sector, stuart:pease has the means to make your dream a reality at a price you'll love. More about us.
Contact us today for free, professional advice on our fibreglass composite mouldings process or to receive a direct order quotation.
We were asked to make a Santa's Sleigh ride!
The brief was to create the perfect Santa's Sleigh ride. The client provided with us with a model, a chassis and a drawing. See the
---
Date: 02 Nov 2023
We are currently manufacturing GRP components for climbing walls, these include both convex and concave shapes of varying sizes. They are made in a base colour and coloured and textured (if required) to suit the customers' requirements!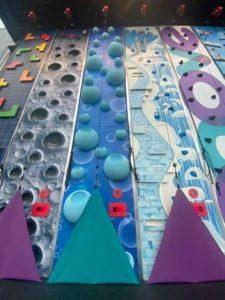 ---
industries & applications
Please use the links below to find out more about fibreglass and GRP laminate use by application or industry sector: